Know Your Past Generation
T.S.Sankara Ayyar. (TSS)
Sri.T.S.Sankara Ayyar was co-brother to Pannai Neelakanta Iyer and brother-in-law to A.R.Rajangam Iyer. Along with Sivarama Iyer he was instrumental in getting the rail track through RVS and to have a staion.
His Ancestors/siblings:
His grandfather Rama Sastrigal was a sanskrit scholar and was attached to Travancore king`s court. He and his wife Valli never had children. So Valli herself selected a II wife for her husband with the understanding that Valli should be permitted to bring the children as her own. Thus the family blossomed through the II wife Kalyani .
His father Chellam Iyer took to business having rice mill and was dealing with Textiles from Karachi, Kashmir and Burma and Malaya. Acres of lands on both sides of the present Tirunelveli Junction belonged to him. Destiny struck with the ship carrying the textiles sinking and the crops too failing. He declared insolvency and then lived with his eldest son Ramayya.
His mother Muthulakshmi was a housewife, below average in intelligence but very generous in mind. Very good cook too.
TSS was the youngest son and third of the four siblings. Eldest was Ramayya, followed by Venkatachalam, Sankara(TSS )and sister Valli.
Got married to Seethalakshmi when he was Twelve.
His education: He was always first in class in school at Tirunelveli, securing scholarship for his education in school. He was very good in Carnatic music and was famous for his whistle katcheries (resembling flute).For odd requirements of money for books and trips, this helped him – ofcourse without the knowledge of his brother. His brother Ramayya took to a job in Madras ( now Chennai) and TSS joined Madras Christian College for his Inermediate and completed B.E. from Guindy Engg.college, Madras. All along he was I in the class except in final BE where he was II. With a job as supervisor in S.I.R., his brother compelled him to sit for FCS. Wherein others required 3 years, he mastered and passed out in 3 months thus becoming boss to his own boss!!! He became an IA&AS. He could not sit for ICS as he did not have monitory assistance to go to UK to write the exam.
Important Positions held by him were:
Deputation to Rangoon as an IA&AS officer
Chief auditor to MSM Rlys.,
Director of military accounts-and Naval Accounts
Director of Finance, Rly.Board.-
Chaiman of Rly. Depreciation Fund
Chief Investigator of Port Trust Improvement and
Financial Commissioner, Rlys which is equivalent to present Railway Minister.(member of Viceroy`s cabinet)
Important title: C I E ( Comerade of Indian Empire)
Close VIP friends:
Sir C V Raman
Sir. Sarvapalli Radhakrishnan
Motilal Nehru
Music and TSS:
Right from childhood music dominated him. He had his home next to temple to hear traditional, pure carnatic music, both vocal and nadhaswaram. He used to be missed for couple of days from home to be with the music parties if they go in a procession. He was so thorough with Raga alapana at a tender age. As informed earlier he became adept to whistling to resemble flute. All before he was 15.
This lead him to support Carnatic music in Delhi when he was in higher positions. South Indian Carnatic School and sabha, started by him still flourish.
Important guests connected with music in Delhi House were:
Ariyakudi Ramanuja Ayyangar
Lalithangi (MLV`s mother)
M L Vasanthakumari
D K Pattammal
G N Balasubramanian
Rajamanikam Pillai
Maharajapuram Viswanatha Iyer
K S Narayanaswamy
Flute Mali
Dwaram Venkataswami Naidu
Madurai Mani Iyer and dancers
Rukmani Arundale
Baby Kamala
VIP Visitors:
M/s
Kasturba Gandhi
Lakshmi Gandhi (daughter of Rajaji and Daughter-in-law of Mahatma Gandhi)
Birla
Satyamurthy
Rajaji
Subbaroyans
Lady C V Raman
V V Giri
C P Ramaswamy Iyer
Dr.Sahib Singh
Present day ministrial Houses he stayed in Delhi:
Hanuman Road
Akbar Road
King George Avenue (Rajaji marg?)
Albuquerque Road (Tees Jan. Marg?)
-By R R Sankarasubramanian
---
Seethalakshmi Sankara Ayyar.(SS)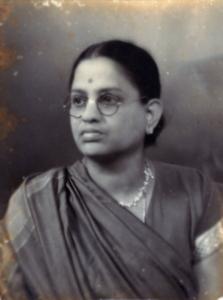 'There is always a woman behind a successful man', is very apt to SS
Seethalakshmi was sister to A.R.Rajangam Iyer(father to ARS) and Pannai Rajam (Rajappatti)
Ancestors / Siblings:
Her father Ramasubba Iyer was a rich landlord in Ambasamudram in Tirunelveli district. He also at a later stage lost his fields and houses due to failing monsoons.
Her mother Meenakshi was a housewife, much above average in intelligence and very good administrator. Very good cook too.
SS was the fourth daughter and fifth of the nine siblings. Eldest was Subbier, followed by Parvathi(Paavu), Ponnamma, Rajam (Pannai), Seethalakshmi (SS), A.R. Rajangam, A.R. Gopalan, Sankaranarayanan and Thangam. As SS was the fourth in row of sisters, she was neglected as a baby. Ramasubbier`s sisters Lakshmi and Seetha changed the trend and the child was named Seethalakshmi combining the names of her athais.
Got married to Sankara when she was six.
Her education……and then: She went to school only till II standard; but what she learnt from home was amazing. When TSS was posted in Rangoon and TSS used to teach English and other subjects to their son Chellam, she also learnt them side by side.. SS thus started her education and nothing was Impossible to her. When TSS was posted to Allahabad from Rangoon, their house was next to Motilal Nehru`s. Rameshwari Nehru, Jawarlal`s aunt made SS come out of her shell and there is no stopping from there on. She was fluent in Hindi also.
TSS got posted to Rangoon, Lahore, Simla, Calacutta. Poona and ultimately to Delhi. If TSS has changed over to crop from tuft and discarded ear-rings in college, SS switched over to 6 yards saree whenver needed. Unnecessary rituals were changed. She boldly accepted for the single day wedding to her ward as suggested by TSS. Also for a widow re-marriage.
She self-taught tailoring, by opening the stitches of readymade items and beat others in competitions. She learnt Knitting from Mrs C S Iyer but invented her own patterns and her own terminology in Tamil and published books. The proceeds went for charity.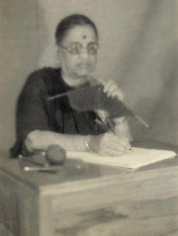 She managed the weekend visitors 50+ in Delhi with full courtesy and hospitality managing Kitchen all by herself.
She was a famous social worker in Delhi with Sarojini Naidu, Muthulakshmi Reddy, Mrs Subbarayan and Aruna Asaf Ali.
She had no inhibitions to dine with Viceroy nor to play badminton and other games with 9 yards saree; still winning the matches.
Later just before her husband`s retirement she started writing lyrics. She published Thyagaraja Charitham.
She was one of the founders of Tiruchi Seva Sangam – an institute started for destitute women and orphans. The sangam flourished and has weaving ,printing sections and also developed into a high school. She gave the palatial Tiruchy house at 40% of market rate to School for the blind.
She in her 70s learnt the rules of cricket and enjoyed the matches in TV. Even before media found that Glyserine was used by Lever of England(?), she pointed it to us. Such was her observation.
TSS & SS OFF_SPRINGS:
First child,a baby girl, passed away prematurely
Son Subramaniam(Chellam) was the second and is no more. He was FA & CAO of N.Rly and also FCI.
Next was Lakshmi their daughter.Known as Mrs.Lakshmi Rajangam, passed away at 99. She is the wife of late Sri.Rajangam
Kanthimathi(Thangam) another daughter followed. She passed away in 2003 at 92.
Son Ramasubban (Raman) was next and died of TB in 1942 at a very young age.
Son Viswanathan (Vichu) followed and is no more.CEE in C.Rly
Daughter Meenakshi was next. Lives with her daughter Meera in Pune. She is 93.
Daughter Rukmani (Rukku) was the last and died in 1990. Her daughter is the famous bharatanatyam dancer Padmasri. Smt.Chitra Visweswaran
Grandsons named after TSS:
Shankar s/o Chellam ( eldest son )
Vijay Shankar s/o Thangam ( II daughter)
Jayashankar s/o Ramasubban ( II son )
Sankarasubramanian s/o Lakshmi (eldest daughter)
Thinking Vichu/Bhagi would get a son, they were to name the child as Umashankar. But it happened to be a girl and was named Uma; but still when she got married to P.Shankar IAS, she has become Uma Shankar!!!
Grand-daughters named after SS:
Seetha d/o Lakshmi & daughter-in-law to H S Mani Iyer
Sita d/o Vichu and w/o Mr P Murari IAS
-By R R Sankarasubramanian
---
Smt Lakshmi Rajangam (Published in Adyar Times)
Lakshmi Rajangam was 99 when she died on 15.2.2009. She was tiny, soft spoken and patience personified. She adapted herself to any situation. But she was sturdy, brave and firm in her thoughts. For her father Late T.S.Sankra Aiyar, Financial Commissioner, Rly Board, she was "the wise woman of the house".
For a woman, who married at twelve and dropped out of school then, after passing out of class VII, Lakshmi managed her finances pretty well. She was widowed at the age of 37 with a not-so-handsome kitty to fall back on.
Still she honoured her late husband's wish that his parents should enjoy the produce of the farm land during their life time, and bequeath the house they lived in to his elder brother. She was a great support to members of her, her parents and her husband's families and is therefore held in great veneration by friends and relatives. With all this she could brought up the two sons to become Engineers.
Music was in her blood and of course always on her lips!! Her gurus were Omkarnath Takhur in Lahore and later Kallidaikuruchi Ramalinga Bhagawathar and Sabhesa Iyer. Lakshmi not only sang well. She gave frequent recitals in the All India Radio, Tiruchirapalli. As a composer, she gave an entire programme of "self-composed songs" on one occasion. She served on the panel of judges during the Radio Week Competitions for Carnatic Music. She was also a member of Audition Committee of All India Radio Trichy and was judge for many music contests of A.I.R.. She has composed near about 100 songs. AVM has brought out an audio Cassette of Compositions of Lakshmi Rajangam sung by Sudha Raghunathan.
Lakshmi`s Navarathri Kolus were innovative and included moral stories like Aesop`s and were invariably crowd pullers. She had a flair for writing and wrote and directed one-act plays staged to in local functions. Her skill in sewing, embroidery and fancy cooking and great interest in flower gardening, set her apart from other ladies of her generation. She served in the Committee of Tiruchi Seva Sangam, held sewing classes and organized variety entertainment for fund collection. She can also play violin well.
Mrs.Lakshmi Rajangam is survived by daughters Saroja Krishnamurthy , Seetha Subramanian, sons R.R.Sankarasubramanian ( Ramani), R.R.Balakrishnan ( Bala), son-in-law M.S.Krishnamurthy, and daughters-in-law Jaya Sankar and Lakshmi Balakrishnan
R.R.Sankarasubramanian stays in Block 13,Kottur Gardens and Mr R R Balakrishnan stays in The Atrium, Tiruvanmiyur
Now in 1/21 Sannadhi Street, RVS
---
Sri Rajangam
Lakshmi`s husband was late Sri. Rajangam.He was the second son to Mada Theru Manaankutty Iyer.
He was intelligent, handsome and fair in complexion but hot tempered. He was born among three elder sisters, an elder brother and two younger sisters. He was the only highly educated person of the family having completed B.E. in Mech.Engg. from College of Engg., Guindy, Madras.. With the cooperation and support of Lakshmi, he educated almost all his nephews upto school final and in one case up to Intermediate.
Likewise he bore almost all his nieces` wedding expenses. Rajangam was Deputy Chief Mechanical Engineer in South Indian Railway (S.I.R.) and died early due to cancer.
Sri Rajangam, an engineer by profession was an ardent lover of English literary classics. He could reel off long passages from memory, from novels by Walter Scot or Oliver Goldsmith. His day began with listening to B.B.C News on the radio. His daily recreation remained tennis and billiards for some years till his father-in-law settled down in Tiruchirapalli and roped him into playing Contract Bridge. In spite of having a wife, exceptionally talented in Carnatic Music, he had no ear of music. However, daughter Saroja's process in music drew him to the Music.
Rajangam was the 1st Indian to occupy the chair and quarters of Works Manager, Golden Rock Railway Workshop. In fact, even his successor in 1946 was a Britisher. Quick handling of loco repairs to facilitate fast movement of goods during the world War II and firm & efficient running of his department during the major S.I.R. strike were 2 hallmarks in his short-lived career. In spite of giant strides in technology, it was amazing to hear from an officer much, much junior, that his manuals on operation and crisis management, are referred to to-date.
He was endlessly bitten by the invention bug. The taps, used in Railways, was his invention. Not only did he, with his friend S.L.Narayanan, design the water tap, commercially known as "Jayson" taps, he was always thinking up household conveniences, with simple materials. Bed rooms were in effect (desert) cooled, and bath rooms had running hot water from an instant geyser. User friendly commodes, replaced dry latrines. Cycle rickshaws and later motorised cycle rickshaws were used to drop and pick Saroja and Seetha from school. All these in 1940s. He got his nephew Venkittu (Later Seetha's husband) to sketch the design for a pressure cooker even when he was writhing in pain as a cancer patient. This never saw the light of day.
When electricity came to his village Ravanasamudram, he first electrified the Meenakshi – Sudaresanar temple and only then provided the facility for the house he expanded for his parents in that village.
His circle of friends was small but so close knit, that till today, even the next generation keeps in touch.
-By R R Sankarasubramanian
---
DOWN THE MEMORY LANE
I am sending my memory of some of the people and some of the incidents that are still fresh in my memory although it's quite some time since I visited the place When Appa was there and before I got married we used to visit the village every year. Let me start from our immediate family.
Venkatasubbayaiyer
Thatha's father Venkatasubbayaiyer (father to Manankutti Iyer and Sattam Iyer ) was known to all of us in the family as'pokka thatha' as he was toothless! 'I think 'pokkai' means'sans' Nobody knew him by his original name.He was a very healthy person and lived almost for a centuary. Ithink he was 98 or so when he died. As a matter of fact, most of the members in that family crossed 75 except Appa ( Sri.Rajangam) who didn't even touch 45.Pokka thatha was very particular about his food habits—he should have 'keerai[greens] every day and even when he was in his 90s he would go to the river ' Rama nadhi' for his bath, wash his clothes and walk back home. He never liked girls standing or sitting outside on the veranda or 'thinnai' as they call it but he was very partial towards his g-son's daughters. He would call out' yeh kutti! yaar athu thinnaile nikkarathu' [ who is it standing on the veranda]and if it happens to be me and I reply' Saroja thatha' at once the tone would change and he would say.'neeya sari sari'[so it's you is it. it's OK.
My grandfather Manankutti Iyer
This is the story I have heard . how Thatha got the name 'manangkutti Iyer. He used to look very fair and handsome as a child and was very ,very active running around here and there. So people used to say he looks like a cute 'maankutti'[baby deer] and called him manangkutti.
Srinivasa Iyer. was a very handsome man. Actually my father resembled him a lot excepting that he didn't have the usual'kudumi'[tuft] and wore western clothes when he went to work. G-pa was very short-tempered but very brave. In those days they used to say that the thieves would give prior warning before looting a village and mind you the whole village will look up to grandpa to face the situation and they used to say that he was very good at playing 'silambam' , in which one faces the rival with just a long stick. I believe he was very good at it and has faced such situations. The poor man faced lots of tragedies in his life time – most of his daughters became widows and he lost his son , my father, who was the sole bread winner of the family. But Appa had provided enough for his parents to lead a comfortable life.
R. S. Neelakanta Iyer
He was one of the rich men, or should I say the richest man in the village! Although he was a lawyer , he gave up that profession and became very religious and his son Ramakrishnan [ mama to me] also followed his footsteps. Neelakanta Iyer was my mother's periamma's husband. I think he should have been a strict disciplinarian .I used to find it really funny when his ds-in-law spoke in a very, very soft tone so that it'll be difficult to know what was being said. Once he had come to our house in Trichy, on his way to see Ramana Maharishi. Sita and I were kids and were full of life. We, especially I wanted to keep him entertained and also show off our talents singing, dancing and showing off my talent in drawing etc. My mother was really scared and thought that he'll tell everyone how badly brought up we were! Someone who happened to visit told him that Ramnar did not show any difference between a Brahman and non-brahmin and it will be a lunch or dinner where everyone will be treated alike. When he heard this he cancelled his trip to Thiuvannamalai and went back to Ravanasamudram!
His son Ramakrishnan was very much interested in music and whenever we went to the village he would ask me to come to his house in the evening and sing for him
His sister Shankari also was a good singer. Those days my mother used to make two plaits on either side with a parting in the centre at the back of our head. The people in the villages were not familiar with this. Whenever I went to Sankari periamma's house her little daughter Rajam would scream and hold on to her mother as though she had seen a ghost and cry out loudly' rettai pinnalkari vandhutta amma' ! [the girl with 2 plaits has come amma] Imet this cousin of mine after a long time in B'lore a few years back and was reminded of this incident.
A.R. Rajanga mama
Rajangamama was a popular person He was my mother's maternal uncle a very close cousin to my father also. There were 3 Rajangams., all the three were sisters' children and named after their maternal grand father. My father was my maternal g-ma's first cousin A.R.R. as he was popularly known was the uncrowned king of Ravanasamudram. We used to love going to his house . He used to be very affectionate and would pamper us a lot. His wife Poannami was a very affectionate lady. My mother's g-ma stayed with them and she used to be all praises for her d-in-law. I remember her telling someone that you have to witness it to know what a wonderful d-in-law I have, 'Look! she said, she has put the oil on the stove to add the mustard to temper the sambhar. Just watch what she does when I call her' So saying she called her d-in-law and Ponnami at once took off the oil , put out the fire and was there in front of her m-in-law to know what she wanted! G-g-ma said she is not doing it because she is scared of me. Both of us have genuine love and respect for each other A.R.R.'s son Sangu stayed in My patti's house and so became very close to our family. He married his athai Thangam's daughter Raji and so we became very close to that family. Even now after Sangu passed way we keep in touch.
Sattam Iyer
He was my paternal g-father's brother. I think both looks-wise and temperamentally he was opposite of my Thatha. I remember him to be well built and not as fair as my g-father and had a rather loud voice which needed no mike what-so-ever!.His wife , my father's aunt, I remember was a very calm, dignified lady. I loved going to their house and talk to a young person, a girl in her teens. I don't remember whether she was a widow or a person abonded by her husband. She was a very friendly person. I think my brother Bala's b-in-law Gopal married one of Satta thatha's g-daughter or g-g-daughter Seetha., Satta thatha's sons were close to our family. Kalyana chithappa and Mahadeva chithappa were very close to my father. Mahadeva chithappa [who married my father's sister's daughter] and Kalyana chithappa were in B'lore and whenever MSK and I went to B'lore we visited them. We have stayed in N.York with thatha's g-son Srinivasan – now in Bangalore . His wife is daughter of my mother's cousin and we had a lovely time. I heard that the Deity of Papakkudi, (which was the original place from where our family shifted to RVS) came in his dream and told him that while we were all living in posh houses His abode was dilapidated. So Srinivasan took the responsibility of renovating the temple in Papakkudi. I have heard that my thatha had another brother called Samalam Iyer [all rare names or were they nick-names, I do not know]. This g-uncle moved to Kerala, we were told and they completely lost touch with him . I have not seen my father's g-mother Kalyani patti but was told she was a very strong' shrewd woman unlike my own Chuppu [Subbalakshmi] patti who was very naive and anybody could take her for a ride
-by Mrs.Saroja Krishnamurthy (d/o Sri.Rajangam an Lakshmi Rajangam)
---
Note:

Readers are requested to furnish detailed articles on M/s R.S.Nilakanta Iyer, Auditor Gen. Sivarama Iyer, A.R.Rajangam Iyer, A.N.Rajangam Iyer, Sattam Iyer, Pannai Brothers (Meenakshisundaram, Ramasubba iyer, Ramakrishnan and Sankaran), Dr.s Kolathu Iyer / Harihara Iyer, Brothers A.Subbiah and A.Muthiah, Brothers Achu and Sivaraman  to    RRS_70@yahoo.com. 

Articles on names  left out can also be sent