Articles
My Native place Ravanasamudram by R R Sankarasubramanian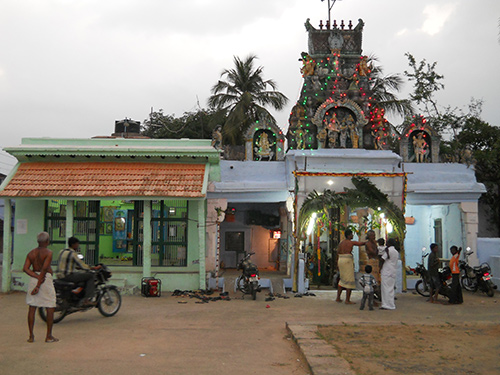 The name of this village represents my first initial and the second by that of my father Rajangam (Late Sri. Rajangam). Actually of my father's generation, there were four Rajangams well known – AR, AN, Sri and Diwan Rajangams. The mothers of the first three AR, AN and Sri Rajangams were sisters. Now to the village.
Ravanasamudram is one of the Villages in Kadayam Taluk of Tirunelveli District of Tamil Nadu. Ravanasamudram is 1.4 km from Kadayam and is 34 km from Tirunelveli . (And 568 km from Chennai, where I stay now). Near by towns are Kadayam (1.4 km.) ,Ambasamudram(12.3 km) , Keezhaapavoor (13.9 km.) and Pappakudi(15.8 km.) where our Kuladeivam Sri Lakshminarayanar is . The following are considered as part of Ravanasamudram as sub-villages:
Agampillaikulam Meenakshipuram Ramalingapuram Vagaikulam & Pillaikulam
Ravanasamudram is at the bank of a perennial river named "Ramanadhi" which originates from Western Ghats. The village is at a little distance from the border of Western Ghats. Ravanasamudram is otherwise surrounded by Kadayam , Alwarkurichi, Sivasailam. It is a place of abundant views of nature.
Samudram means collection of things, but generally it is for water – Sea. For example Jana samudram means huge crowd. So it may be as collection of high population (in those days) or collection of many casts or religions.
The name came from Sri..Ravanappa naicker who was the minister in the Pandya/Naicker kingdom and was the person who founded Ravanasamudram. Since he was the founder of this village, the place was named after him. Ravanasamudram was originally called as Indirapuri. I am given to understand that even now during the ten day Thai Poosam Tirunaal the 4th day of the festival we pay our respects to their family who are still residing at Ravanasamudram ( Naickers and Naidus are same).
Ravanasamudram is known for its culture. It is a peaceful village bound by different Religions, castes and creeds. This village is an example for unity among all communities. The people are very friendly and helping in nature.
The population in Ravanasamudram is about 4000. Many retired persons of this as origin retain their roots and are living in this village and hence this is the only Agraharam in which still 95% are brahmins even today. This village is called as Cambridge of Nellai as Great Musicians, Scholars and high ranked Govt officials are from here. The agraharam consists of around 80 houses and is also very famous for Namasankeerthanam and Veda parayanam.
It also possess a railway station which was built by British during their reign. The story goes that the then Accountant General Mr. Sivarama Iyer and Financial Commissioner of Railways Mr.T.S.Sankara Aiyar (who is my maternal grandfather) are the cause for it as their families belong to this place. While the name has to be Ravana, the Railways have wrongly written it as Raavan and Raavana in Hindi at different places thus confusing people more with Raamanadhi flowing near. ( My paternal grandfather Srinivasa Iyer is known as Mnankutty Iyer of North Mada Street).I shall give a small resume of my maternal grandparents and my parents in the annexure.
Twenty four village panchayats in the district have been selected to receive the Union Government's Nirmal Gram Puraskar for 2007 – 2008.The award is given every year to outstanding village panchayats for ensuring cleanliness under their jurisdiction by executing solid and liquid waste management programmes and making the villagers to construct toilet in every house with financial assistance being extended by the Central Government. Ravanasamudram is also one among these 24.
There is an elementary school and a library in Ravanasamudram. For High school and college the village's nearest place is either Kadayam or Azhwarkurichi.
Every year Thai poosam festival is celebrated in Meenakshi Sundareswarar temple for ten days, last day being the Poosam and will be attended by many people from other places. The outsiders and many from the village pool money by way of Sangalpam to run this festival and also to take care of food for the entire village during these ten days.
The entire village kitchen is closed for these ten days and right from morning 5.30 am coffee to night dinner, neat arrangements are made in the Community hall.
Morning and evenings the ladies show their Kolam caliber. ( see annexure)
Apart from the Lord's daily Ula to all houses in the morning and night, we can also enjoy evening entertainment by way of Nama sangeerthanam, Katha kalatchebam, Katcheris. Later by 8.30 pm we have wonderful lectures by Tamil scholars. (see annexure)
One should be present to feel this.
The Thai Poosam has the following as its time table. Keeping Thai Poosam as Paththaam Thirnaal, it works back as given below:
| PROGRAMME | PROGRAMME DETAILS | ENGLISH CALENDER | TAMIL CALENDER (MARGAZHI THAI) | DAY | STAR | TIME | LAGNA |
| --- | --- | --- | --- | --- | --- | --- | --- |
| | Kaal Nattu | 03-01-2014 | 19 | Friday | Uthradam | | |
| | Angurarpanam | 07-01-2014 | 23 | Tuesday | Uthirattathi | | |
| Thirunal Day-1 | Kodi Yetram (Flag Hoisting) | 08-01-2014 | 24 | Wednesday | Revathi | | |
| | Avahanasivili Yezhundiruppu | 08-01-2014 | 24 | Wednesday | Revathi | | |
| Thirunal Day-6 | Therkaal Naattu | 13-01-2014 | 29 | Monday | Rohini | | |
| Thirunal Day-7 | Lord Nataraja Renoval from Padhividam | 14-01-2014 | 01 | Tuesday | Mirugashrisham | | |
| Thirunal Day-8 | Ther Kadaksham | 15-01-2014 | 02 | Wednesday | Thiruvadhirai | | |
| Thirunal Day-9 | Radha Rahanan & Urchavam | 16-01-2014 | 03 | Thurs day | Punarpoosam | | |
| Thirunal Day-10 | Theerthavaari & Mangala snanam | 17-01-2014 | 04 | Friday | Poosam | | |
| | Dwajavaharanam | 17-01-2014 | 04 | Friday | Ahilyam | | |
| | Kalasamedu | 21-01-2014 | 08 | Tuesday | Uthiram | | |